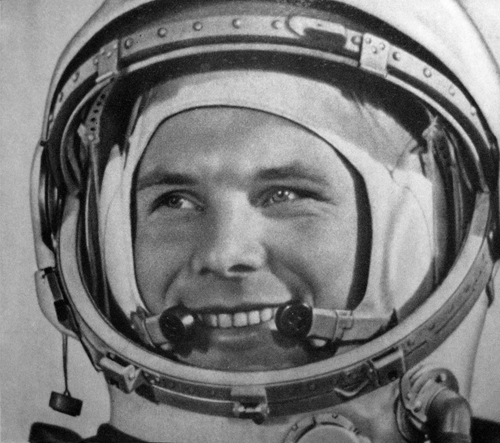 It's almost a cliché. Most kids dream about wearing a spacesuit and launching into the mysterious, awe-inspiring realms of outer space. And with iconic heroes like Neil Armstrong and Buzz Aldrin to look up to, it's small wonder. Yet Armstrong, Aldrin and all the other famous American astronauts aren't the only ones to have taken groundbreaking steps in the history of space exploration. On the other side of the Cold War divide, the Soviet Union kept itself busy as well.
Here's a look at 10 Soviet cosmonauts who realized their dreams of becoming astronauts – embarking on careers that are like the stuff of storybooks. From the first man and woman to venture into space, to the first cosmic explorer to come down with space sickness, these adventurers remain true champions of the stars.

10. Valentina Tereshkova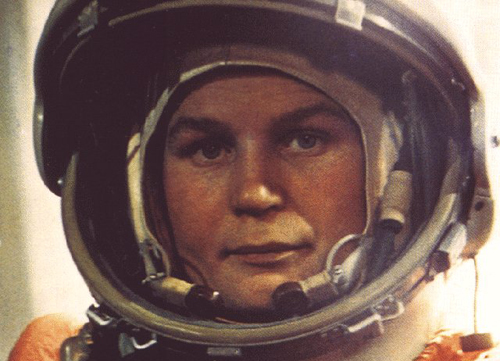 Cosmonaut Valentina Tereshkova became the first woman to explore outer space when, on June 16, 1963, she was launched from Russia's secret station in Baikonur, central Asia. Tereshkova was aboard the Vostok 6 spacecraft, and in just under three days, she orbited Earth 49 times, traveling a total of 1,250,000 miles!
Tereshkova's voyage ended on June 19, 1963, when she successfully parachuted into Kazakhstan. And the 20,000-foot parachute jump was probably the most natural stage of the trip for Tereshkova, who was selected for cosmonaut training partly because she was an amateur parachutist.
The female cosmonaut program was disbanded in 1969, and Svetlana Savitskaya became only the second woman to travel into space in 1982, almost 20 years after Tereshkova.
9. Gherman Titov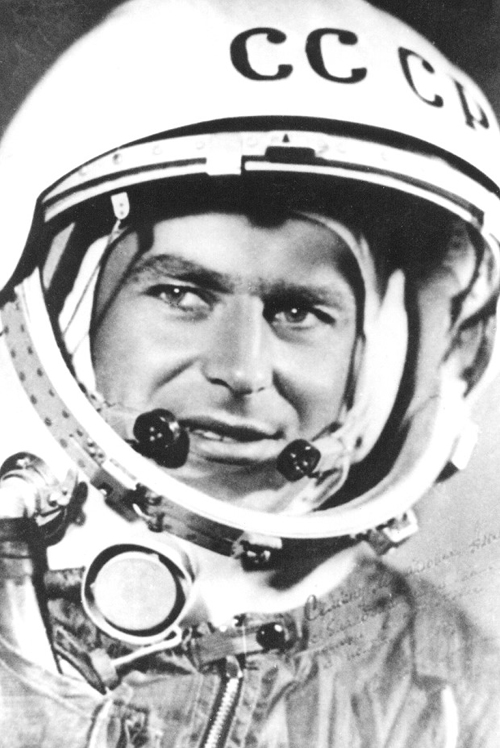 On August 6, 1961, 25-year-old Gherman Titov became the second man to travel into space, just four months after fellow cosmonaut Yuri Gagarin's historic first mission. What's more, today Titov still holds the record as the youngest person in space.
In total, Titov was amongst the stars for 25 hours and 18 minutes. During his voyage on board the Vostok 2 spacecraft, he ate lunch, took the first space snooze (which proved somewhat difficult in zero gravity because his arms kept flapping about!) and recorded the first "out of this world" footage of Earth. Titov had to orbit Earth 17.5 times in order to re-enter the atmosphere and land on Soviet soil, and he ended up developing space sickness (the equivalent to motion sickness experienced in weightlessness) – another distinctive first.
8. Valery Bykovsky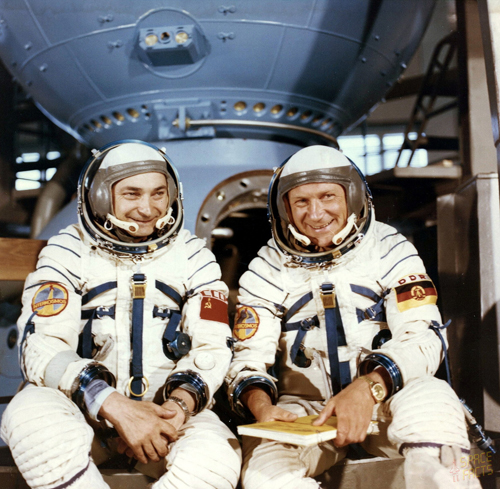 Valery Bykovsky (on the left) made space exploration history in June 1963, when he completed the longest solo endurance flight ever, aboard the Vostok 5 spacecraft. Amazingly, this is a record that still stands to this day. Bykovsky orbited the Earth a total of 82 times in four days, 23 hours and 54 minutes, traveling a total of 2,060,000 miles.
Bykovsky soared into space twice more during his career, aboard Soyuz 22 and Soyuz 31 spacecraft, respectively. The Soyuz 22 mission launched on September 15, 1976 and lasted nearly eight days. The objective of the mission was to take pictures of Earth with a special camera, for research purposes. The flight also included the study of plants and fish in space and the effects of cosmic rays on the human eye.
7. Valeri Polyakov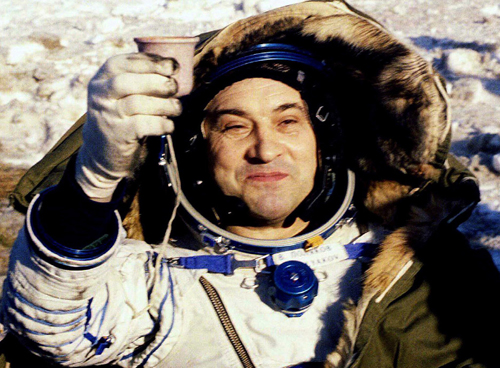 Valeri Polyakov holds the record for the most continuous amount of time spent in space. He gained this distinction by logging over 14 months in a row aboard the Mir space station between January 1994 and March 1995. Polyakov, who gained a doctorate degree and went on to specialize in astronautic medicine, conducted medical, physiological and hygiene research at the station.
Polyakov's stint on board the Mir station proved that humans could maintain good physical and mental health during prolonged periods spent beyond the Earth's atmosphere. His time in space provided us with vital information on how the human body reacts to environments with little to no gravity, findings that could prove useful for eventual manned missions to Mars.
6. Andriyan Nikolayev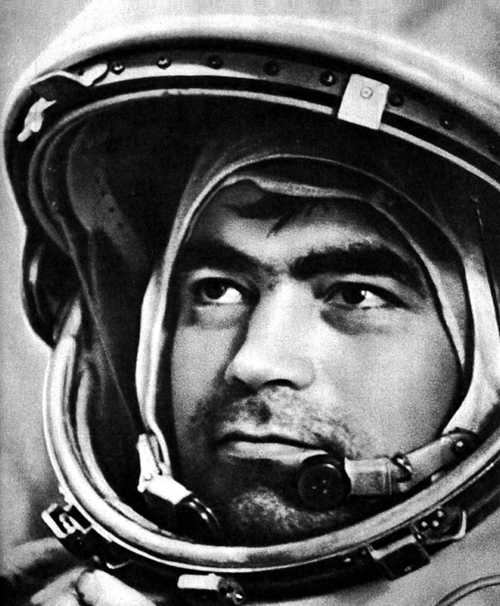 Andriyan Nikolayev flew endurance record-setting missions aboard the Vostok 3 (solo) and Soyuz 9 spacecraft. The Vostok 3 spaceflight was launched on August 11, 1962 and lasted for almost four days. Nikolayev orbited the Earth 64 times and became the first person to transmit a television broadcast live from space.
Blasting off on June 1, 1970, cosmonaut Vitali Sevastyanov accompanied Nikolayev on the Soyuz 9 mission, which lasted for a remarkable 17 days and 17 hours, breaking the previous endurance flight record set by NASA's 1965 Gemini 7 mission. During their time in space, both men conducted experiments, played chess with the on-ground control team (the first space chess match), watched a World Cup soccer game, communicated with their families via television links, and even voted.
The length of the flight and the effects of extended periods of weightlessness left Nikolayev and Sevastyanov weak, but both men recovered about 10 days later, and their experiences showed the importance of exercising in space.
5. Vladimir Komarov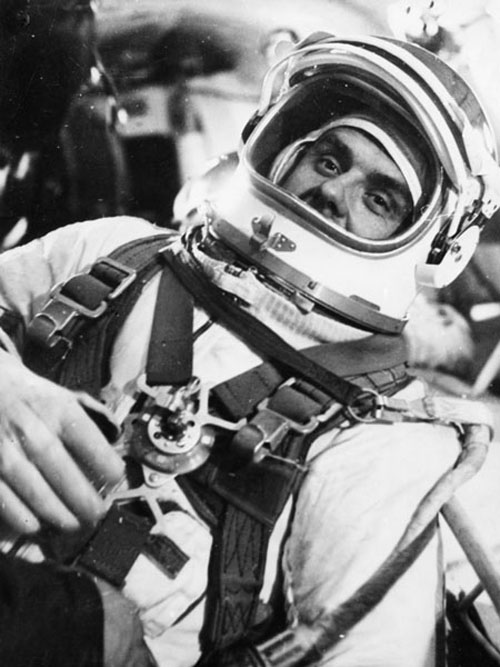 In 1959, Vladimir Komarov, a brilliant engineer in the Soviet Air Force, was one of 20 men – out of some 3,000 pilots – selected for cosmonaut training. Although Komarov's knowhow and practical skills were strong, some physical problems, including a heart irregularity, threatened his career. Nevertheless, helped by his engineering expertise, Komarov persevered, and he was finally sent into space on October 12, 1964, for a 24-hour flight amidst the stars on board the Voskhod 1 spacecraft.
On April 23, 1967, Komarov was again sent into space – this time on the Soyuz 1 mission – and in the process he became the first person to explore outer space multiple times. Although Komarov and Yuri Gagarin (his backup crewman) had both raised concerns about design flaws in the Soyuz 1 spacecraft, the problems were not dealt with. As it turned out, the flight was ill fated from the beginning, and a number of systems failed. What's more, although Komarov managed to re-enter Earth's atmosphere, his main parachute did not open properly and he died on impact – the first human to perish during a space mission.
4. Sergei Krikalev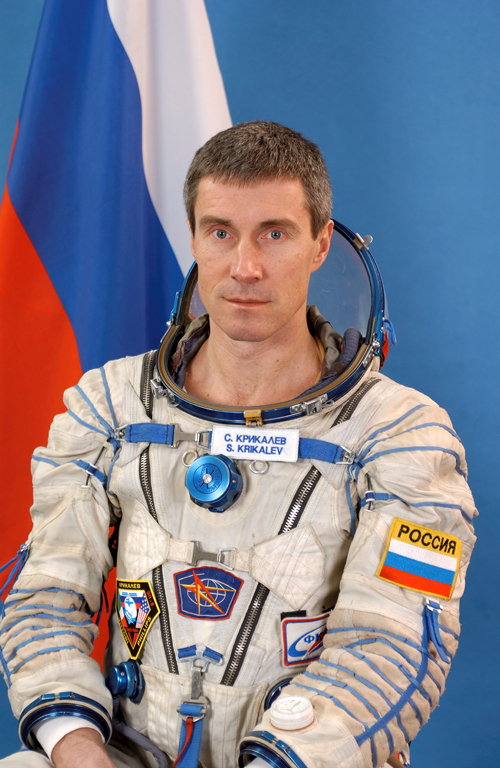 Cosmonaut and mechanical engineer Sergei Krikalev has logged more time in outer space than any other person in history. Incredibly, Krikalev has spent a total of 803 days, nine hours and 39 minutes in space, spread out over six separate missions. One such mission saw him on board the Mir space station between May 1991 and March 1992, just as the Soviet Union was breaking up – a circumstance that led many to dub him "the last Citizen of the USSR."
An experienced mechanical engineer, Krikalev helped to devise ways for the rescue team to carry out repairs on the malfunctioning Salyut 7 space station in 1985 – and he was picked as a cosmonaut shortly afterward. Krikalev has also logged 41 hours and eight minutes of spacewalks. And not only that, but he has an asteroid named after him as well!
3. Konstantin Feoktistov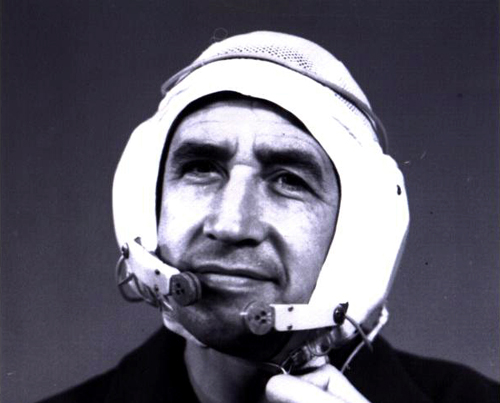 Born in 1926, Konstantin Feoktistov became an engineer with a doctorate in physics. He was also the first civilian and first non-member of the Soviet Communist Party to travel into space. Working for Mikhail Tikhonravov's OKB (design bureau), the team Feoktistov was part of helped design both the Sputnik satellites and the Vostok, Voskhod and Soyuz space capsules.
In 1964, Feoktistov began cosmonaut training. Then, in a whirlwind decision, later that year he was sent into space aboard the Voskhod 1 craft, alongside Vladimir Komarov and physician-cosmonaut Boris Yegerov. Interestingly, this was the first spaceflight that didn't require cosmonauts to wear special suits.
Voskhod 1 was launched on October 12, 1964, and the flight lasted 24 hours and 17 minutes. It was to be Feoktistov's only flight, but his impact on space technology was far from finished. He went on to lead a Soviet space design bureau and worked on the designs for two space stations, Salyut and Mir. The Feoktistov crater on the far side of the Moon is also named after him.
2. Alexey Leonov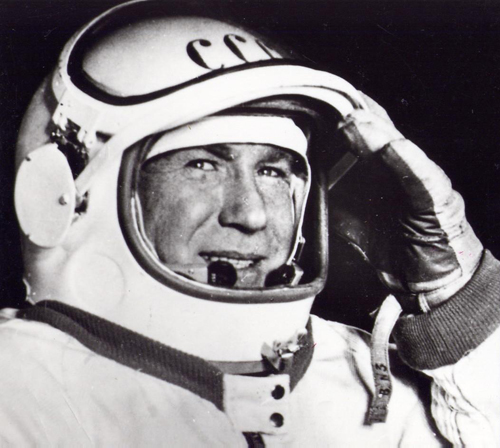 On March 18, 1965, Alexey Leonov became the first person to walk in space, and furthermore, he displayed amazing courage while doing so. Leonov floated outside the Voskhod 2 capsule for 10 minutes, feeling euphoric, "like a seagull with its wings outstretched, soaring high above the Earth." However, events took a turn for the worse when Leonov turned to go back inside. Because of the pressure difference, his suit had inflated to the point where his feet were no longer in his boots, his fingers were no longer in his gloves, and he couldn't fit back inside the airlock. Fortunately, Leonov kept his cool and maneuvered himself back inside by releasing oxygen from his suit through a pressure valve – though he risked oxygen starvation. The physical and psychological effort was intense, and by the time Leonov managed to get back inside, he was dripping with sweat.
Moreover, the problems didn't end there. Leonov discovered that the automatic guidance system for atmospheric re-entry wasn't working properly. And although he and teammate Pavel Belyayev oriented the spacecraft manually, a cable failed to disconnect during re-entry and dragged the orbital module behind them, sending them into a spin. They landed in the heart of Siberia, 1,242 miles beyond Perm, Russia, and were buried in over six feet of snow. The pair endured temperatures below -22 °F but managed to survive until rescuers were able to reach them.
Despite this terrifying experience, Leonov went into space again, as part of the Apollo-Soyuz (Soyuz 19) voyage in 1975. A lesson in the extraordinary lengths to which people will go in order to achieve their goals.
1. Yuri Gagarin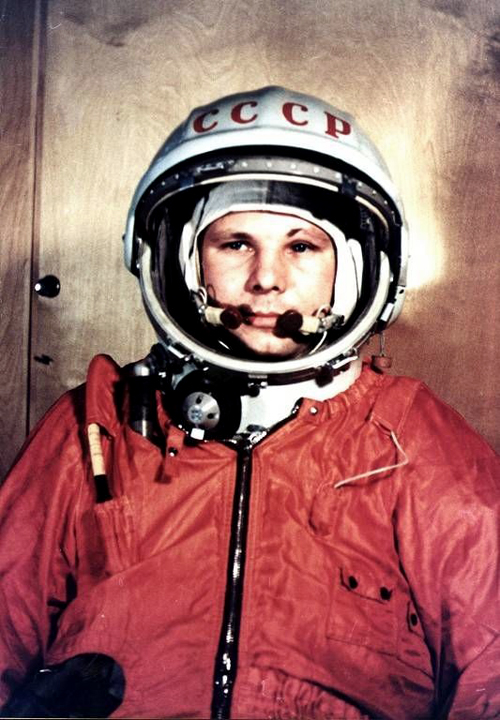 Yuri Alekseyevich Gagarin is the most famous cosmonaut of all time – and with good reason. While dogs and satellites had already ventured beyond the limits of Earth's atmosphere, Gagarin was the first human to do so. On April 12, 1961, he boarded the Vostok 1 spacecraft and shot up to an altitude of nearly 188 miles. For the next 108 minutes, he would orbit around the Earth traveling at 18,000 miles an hour!
Gagarin was fascinated with space from a young age but began his career as a pilot in the Soviet Air Force, soon rising to the rank of Senior Lieutenant. He applied for cosmonaut training and was accepted in 1960. The training was strenuous, including subjection to heat chambers, weightlessness tests, sensory deprivation, and solving mathematical equations while under stress. Yet Gagarin excelled in all areas and was selected for the historic Vostok 1 spaceflight, with Gherman Titov as his backup.
On March 27, 1968, at the age of just 34, Gagarin died mysteriously in a plane crash, which has led to a number of intriguing conspiracy theories surrounding his demise.
Bonus: Boris Yegorov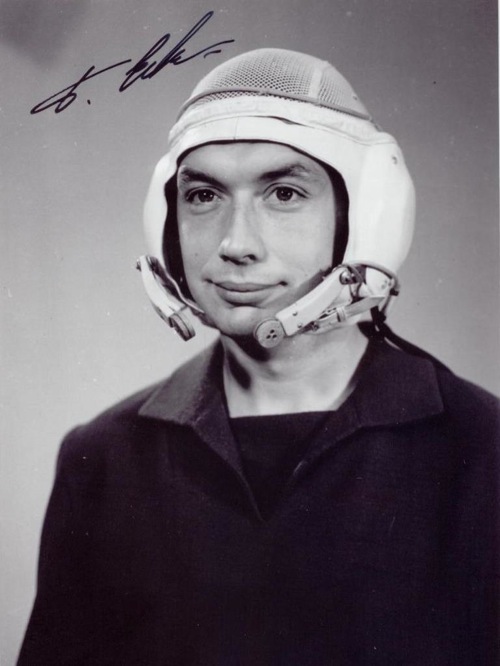 On October 12, 1964, aboard the Voskhod 1 spacecraft, Boris Yegorov became the first physician to go skyward and beyond into space. Yegorov traveled alongside Vladimir Komarov and Konstantin Feoktistov; and while he was in space, he conducted experiments that tested the reaction of the human body to zero gravity, radiation, and the close confines of a spacecraft.
Yegorov drew blood samples from Feoktistov and Komarov and also ran tests on fruit flies and plants. Later, working for the Soviet Ministry of Health, he went on to conduct research in a variety of different fields – from genetic cell engineering to biology.